Oxymoronic, yet charming can best describe coffee's distinct ability to simultaneously evoke nostalgia and the awakening of a new dawn, generate an adrenaline rush and soothe the nerves, and most importantly, result in a good addiction! So, why limit your love for coffee to morning brews, when you can turn it into an around-the-clock immersive experience, with these delightful mCaffeine head-to-toe coffee scrubs! It's now time to both, have the coffee and drink it!
---
1. Naked & Raw Coffee Body Scrub
What happens when you combine the wholesomeness of freshly ground coffee beans and coconut oil? It results in a magic portion of natural goodness that leaves your body feeling soft, smooth and radiant.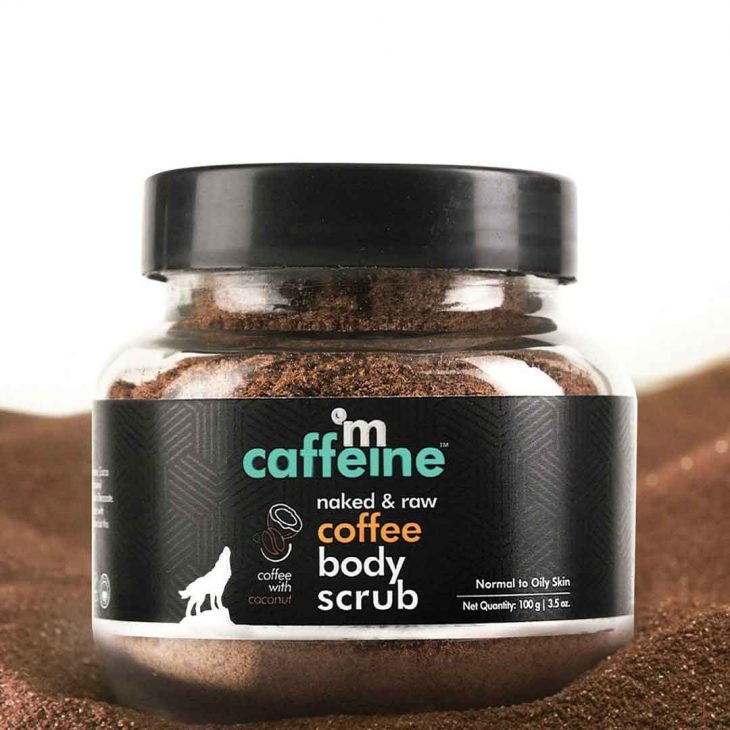 While the antioxidant and antimicrobial coffee works tirelessly to stimulate blood flow, reduce cellulite, fight free radicals and reduce inflammation, the nourishing coconut oil lends a helping hand by taking on the role of a natural moisturizer and keeping your skin hydrated.
In addition to its hydrating properties, coconut oil is also known to diminish signs of ageing such as wrinkles and also reduce temporary redness if any. Therefore, this 100% organic and paraben-free indulgence is entirely guilt-free and recommended to be used twice a week for effective and visible results.
2. Naked & Raw Coffee Face Scrub
A cup of freshly brewed coffee for the inside and a jar of freshly ground coffee for the outside, keep you glowing inside-out! The classic combination of pure Arabica Coffee, Walnut, Vitamin E and Argan Oil, makes this the model face scrub for normal to oily skin.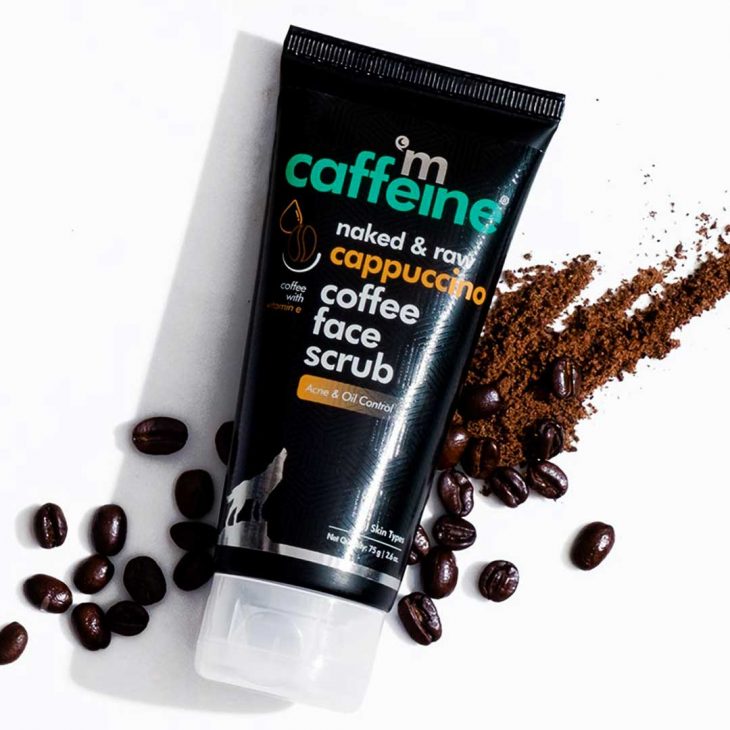 While coffee is a jack of all trades; de-tanning, blackhead removal, and skin-toning, walnut is a master of one; exfoliation. Argan oil and hibiscus, on the other hand, play supporting roles by keeping your skin moisturized and firm.
Therefore, a combination of these ingredients results in a job well done and keeps you coming back for more! These coffee face scrubs are also available in Espresso, Latte and Cappuccino flavours, with ingredients tailored to the asks of skin types; dry and oily and skin-related issues; acne. 
3. Naked & Raw Coffee Foot Scrub
When it comes to skincare, it's almost instinctive to side-step (pun-intended) your feet. Away from public view, your feet remain true home-bodies for a major part of your life. However, this doesn't warrant the lack of care and attention they are often subject to.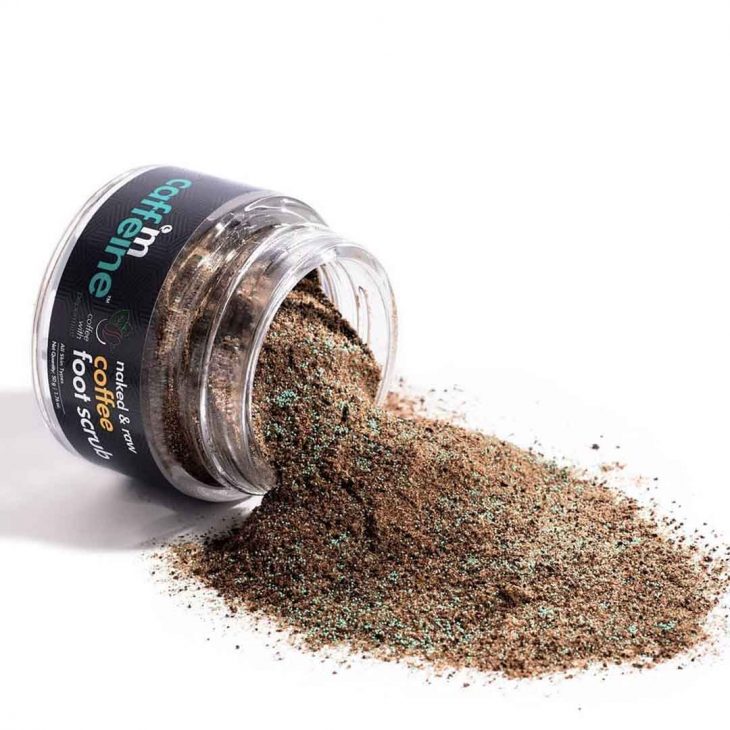 If anything, your feet deserve equal or more care, owing to the various skin problems they are prone to, such as; painful sores, fungal infections, ingrown toenails, and blisters. Good foot scrubs serve the basic purpose of dead skin removal and restoring moisture in your feet.
A caffeine-infused one, on the other hand, goes the extra mile and promotes blood circulation and heals damaged skin. The contribution of these ingredients is further enhanced by the addition of peppermint and almond oil, which help soothe and moisturize your skin, making you light on your feet!
4. Naked & Raw Coffee Scalp Scrub
To prevent your scalp from turning into the home ground of your opponents; build-up and dead skin cells, it is extremely important to maintain a clean and exfoliated scalp at all times. Apart from frequent washes, exfoliating at regular intervals is the key to a healthy scalp.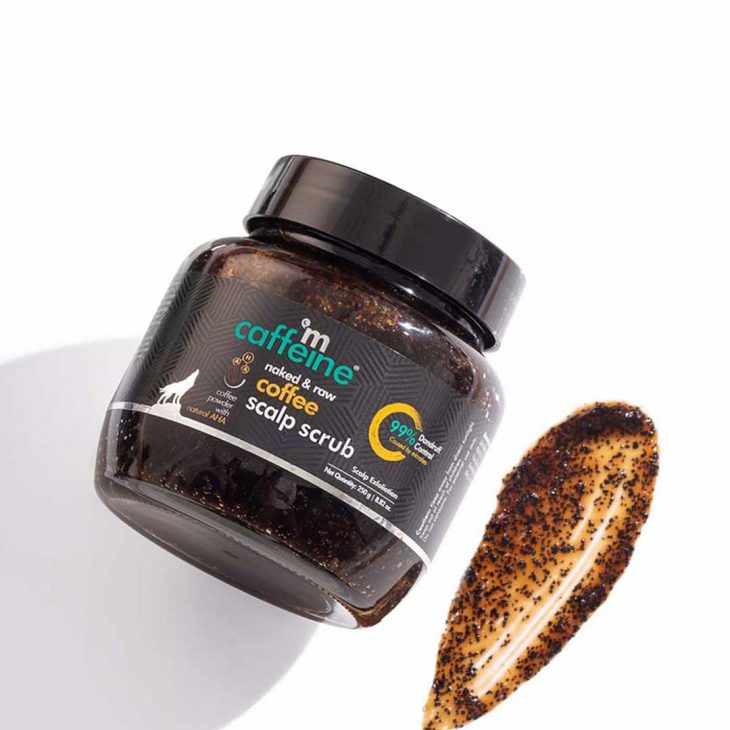 This is where mCaffeine's clinically tested and backed Coffee Scalp Scrub enters with the proven effectiveness of 99%, in the removal of dandruff-causing microbes.
Apart from that, the scrub is supercharged with exfoliating ground Arabica Coffee that helps remove build-up and dead skin cells, stimulate the hair roots and improve blood circulation. The Aha! factor, is further enhanced by the presence of Natural AHA that helps get rid of dandruff and Rosemary that soothes the inflamed scalp.
5. Coffee Lip Scrub
Pucker up your luscious lips with the goodness of coffee, cold-pressed coconut oil, and natural cane sugar! Nature's exfoliator heros; coffee grinds and cane sugar, help remove dry flakes, while nature's hydrator; cold-pressed coconut oil, helps moisturize chapped lips, leaving them cured, caffeinated, and cushiony soft!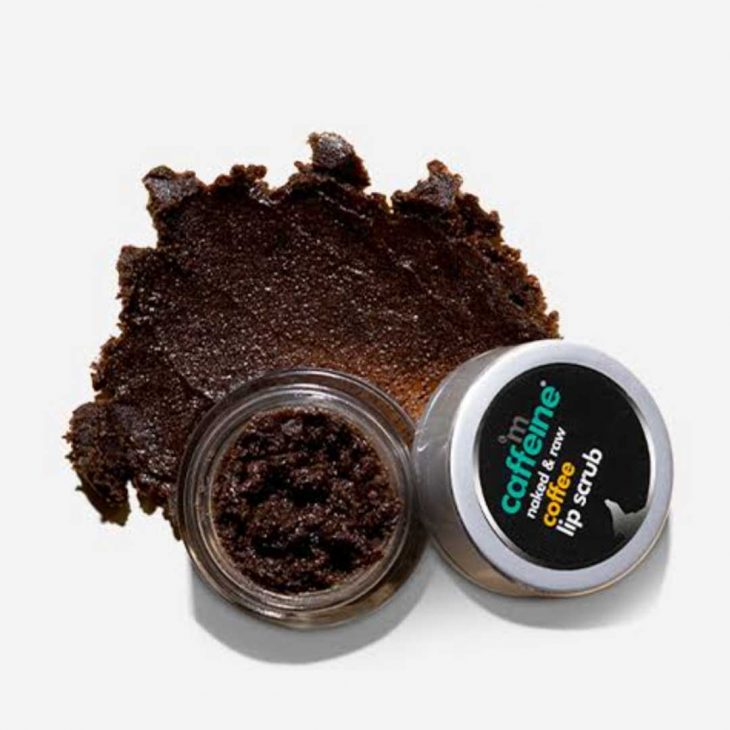 The superfood caffeine in the coffee lip scrub also provides the added benefit of reduced pigmentation with regular use.
Therefore, free from beeswax and 100% vegan, there's no better exfoliating partner to both scintillate your senses and scrub away the dryness.
---