Looking for a perfume that represents your personality? We know how challenging it can get to pick the perfect fragrance! To avoid faltering, it is vital to know and understand the components a perfume is made up of. Like musical notes, every perfume has three keynotes: Top Notes, Heart Notes, & Base Notes. Deep-diving into the details of what notes are will help you make a show-stealing choice! So here we go.
---
Why three Notes?
The main reason behind amalgamating three varied notes is not just to create a scent but to create an enriching experience for the wearer. Every note plays a different role and comes with its volatility rate. When combined, they have a desirable yet effortless appeal!
---
Top Notes
The top note, also known as the head note, is the aroma released as soon as spritzed. This note has the strongest scent, with a high volatility rate that enables it to evaporate in 15-20 minutes and then transcend into the second note. It is specially crafted to enhance the wearer's charisma and boost their confidence.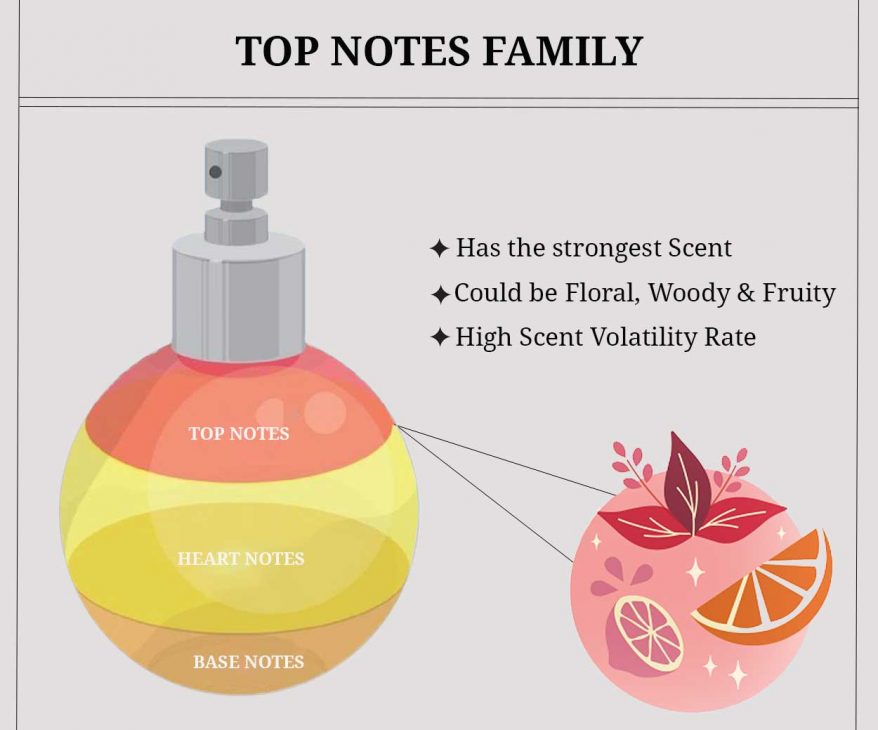 Here are some scents that you should look out for while choosing your top note:
1.The Floral Touch: If you love the scent of flowers and floral freshness is something that entices you, look at opting for Jasmine or Ylang Ylang scents.
2.For Special Occasions: Become the cynosure of all eyes by making your presence felt with notes like; Cinnamon, Nutmeg, Rosemary and Basil.
3.Woody Aroma: If you like your surroundings to embody the essence of nature and be pleasant and soothing, opt for scents of Sandalwood or Cedarwood as your top notes.
---
Heart Notes
Known to be the mediator between the top and the base note, the heart note merges the sophisticated and cool top note with the exclusive scents of the base note. It is known to make up approximately 70% of the scent, promising to last longer than the Top Note.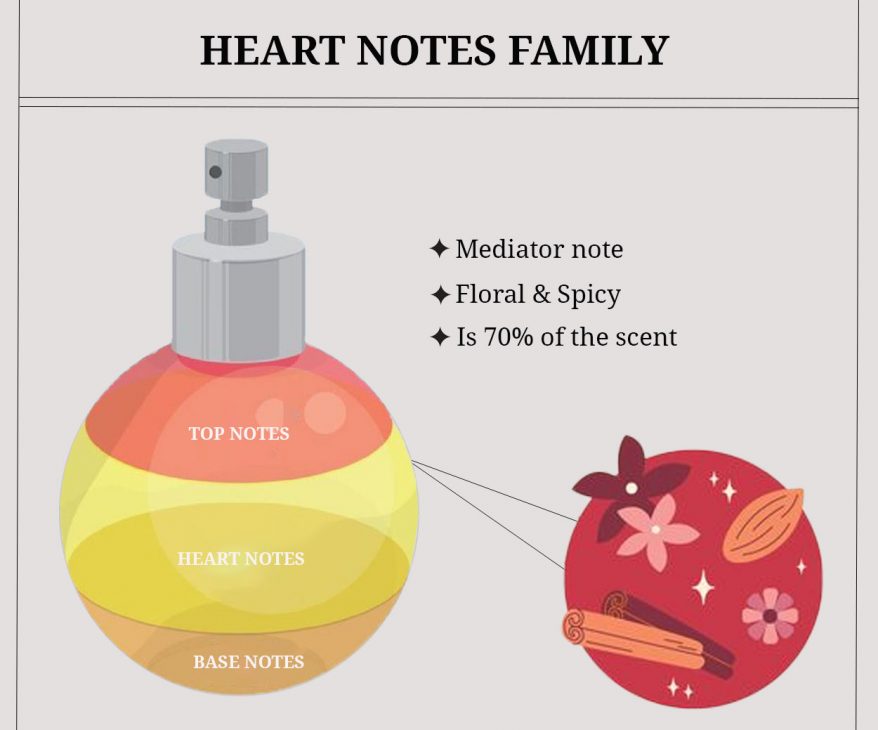 If you're looking for a strong base note, head for floral scents like Jasmine, Ylang Ylang, Geranium etc. If you want to spice things up, head for notes like Cinnamon, Pine, Lemongrass, Neroli or Black Pepper. The Evaporation rate of the Heart Note is medium and stays longer than the top note for around 30-60 minutes.
---
Base Notes
Explore the foundation of your fragrance with Base Notes. Once the Top and Heart Note starts evading, the Base Note steps in and stays for the most prolonged period. The Evaporation Rate of Base notes is prolonged and stays around for approximately 60 minutes.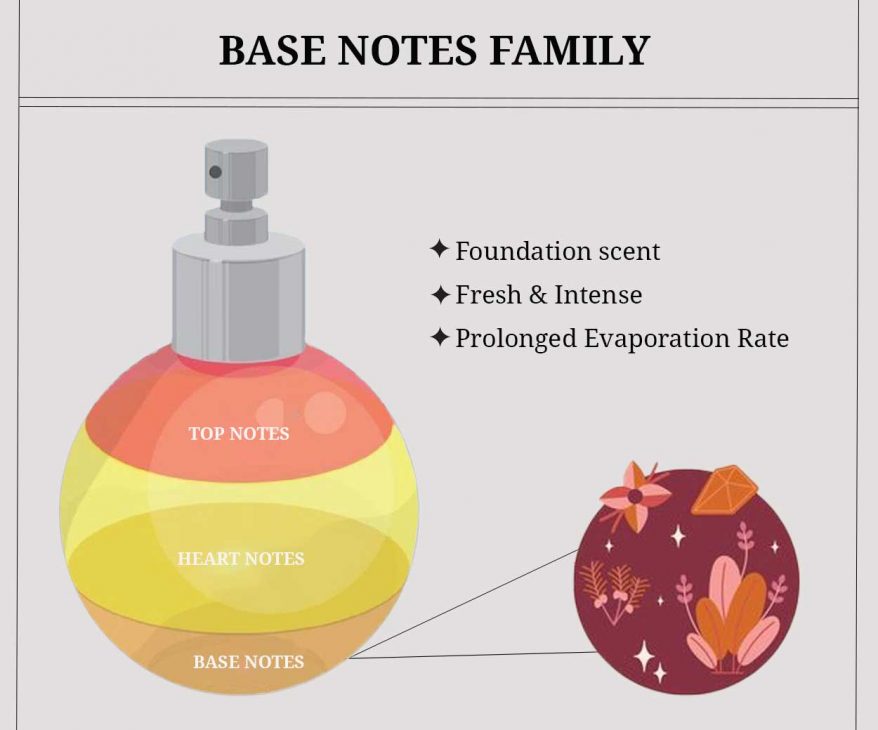 It includes exquisite and intense flavours like musk, amber, vanilla, sandalwood etc. The fragrance of base notes transports you to a completely different world and lets you enjoy vibrant, fresh and intense scents.
Understanding The Fragrance Family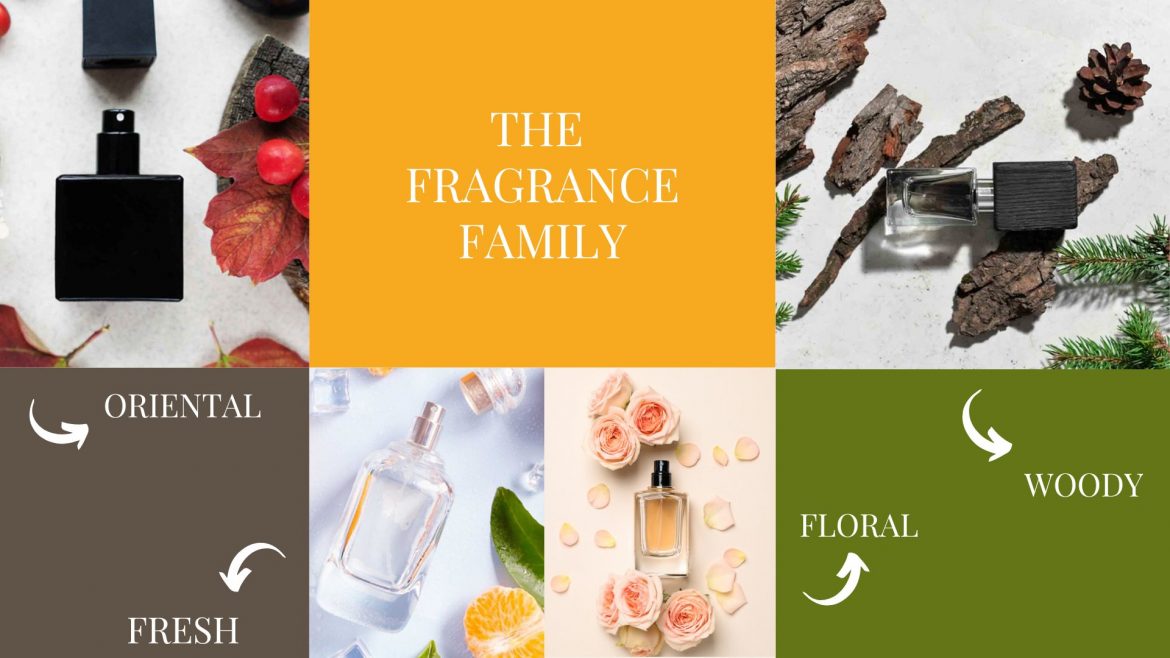 Now that you understand the varied notes of your perfume, it's also essential to understand the fragrance family. Every scent is based on a different fragrance, and every fragrance belongs to any category- Warm, Floral, Oriental and Fresh. Let's explore each category in detail.
1.Fresh
The fresh note consists of vibrant and irresistible scents like- Aqua, Citrus, Fruity etc. These scents are preferred for either the top or the Heart note. Other scents also come under this category are Lavender, Bergamot, Marine, Berries or Galbanum.
2.Floral
Floral note unveils a sweet and distinctive scent. It has aromatic and sweet notes like Rose, Jasmine Peonies or Lilies. This scent can be assigned to any note as it varies from light to strong and intense.
3.Oriental
Add a pinch of spice to the overall fragrance with the Oriental scent. It brings in floral and woody oriental, giving way to a warm and classy scent! The note is made interesting by adding premium fragrances like Cardamom, Cinnamon, Vanilla or Orchid. Also, this note is mainly added to the base note as it has a strong scent.
4.Woody
It brings in an intense version of mysterious scents that offers an ever-lasting fragrance experience. It comes under the "Warm Family" and is perfect for your special date nights and captivating evenings. It includes various scents like Cedarwood, Amber, Sandalwood etc.
Read our blog on fragrances perfect for your personality style. (Tap Here)
---
Now that you know everything you need to know about fragrances, it's time to head out and get your hands on the perfume with the perfect notes to complement you! And if you wish to find your favourite perfume online from the comfort of your home, download the Smytten App to experience the delight of free trial packs!
Do you have a favourite scent? Tell us in the comment section.