Curating the perfect beauty routine can take years of trial and error and a lot of money. Thankfully, cosmetic brands have listened to our skin woes and are creating fool-proof daily regimens by combining their top-selling formulas. The best beauty kits and bundles combine complementary products to give you a seriously effective beauty routine.
With these wonder kits, you don't have to guess if your conditioner works well with your shampoo or if the face wash complements the serum. Why? As someone else has already curated products that work well together, the hardest part is done for you.
And to make things even simpler, we've listed some of our favourite beauty kids from one of our favourite beauty brands. Keep scrolling for the best beauty kits by Pilgrim that contain everything you need to stay at the top of your beauty game.
---
#1 TheBeautyPilgrimage for Healthy Hair
If you've been wondering how to grow hair faster, we have good news! Pilgrim's healthy hair kit can help you turn your long-held dream into a reality with a little care and lots of love. There are 3 products in this kit—the Redensyl & Anagain Hair Growth Serum, the Hydrating Sulphate Free Shampoo with Argan Oil, and the Frizz-Smoothing & Moisturizing Hair Conditioner.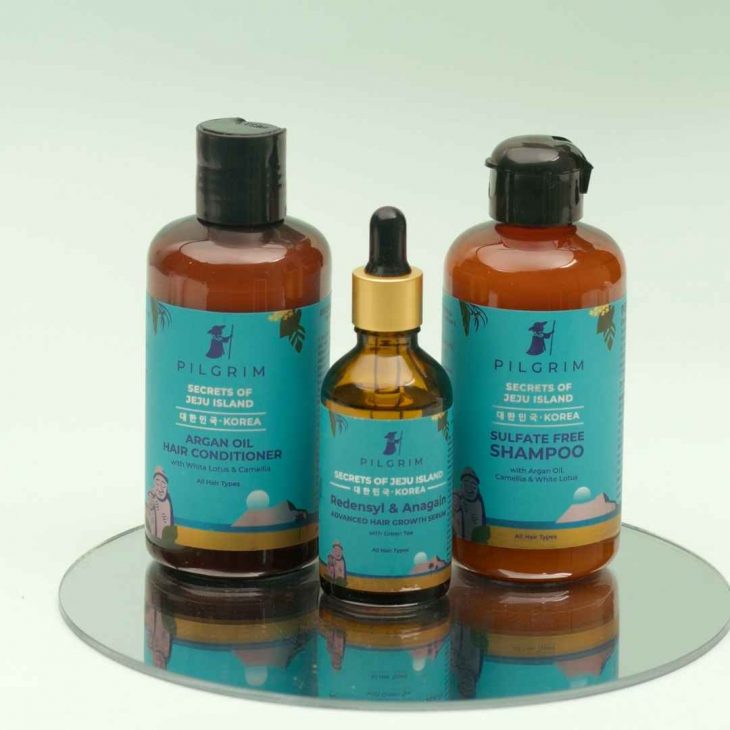 Hydrating Sulphate Free Shampoo with Argan Oil: Featuring a mild sulfate-free formula, the Hydrating Shampoo gently cleanses and eliminates excess oil and dirt without stripping the hair of its natural oils. The antifungal properties of argan oil make it an effective treatment for dandruff, itchy, and dry scalp. Moreover, it provides improved elasticity & nutrition, preventing split ends and giving your hair a healthier & smoother texture.
Frizz-Smoothing & Moisturizing Hair Conditioner: The Pilgrim Agran Oil Hair Conditioner is a gentle conditioner that softly detangles hair and seals in moisture without weighing it down. It nourishes and protects hair naturally from the inside out with a unique blend of camellia, argan oil, and white lotus oils.
Redensyl & Anagain Hair Growth Serum: Pilgrim Hair Growth Serum, the breakthrough ingredient for hair, rebalances the hair cycle at the roots without causing any side effects. Whatever your hair type is, the product significantly boosts your hair's strength, density, thickness, fullness, and health.
Say hello to gorgeous hair with this kit today!
---
#2 TheBeautyPilgrimage for Glowing Skin
The perfect way to beat skin problems and pamper yourself is with facial treatments. With our Pilgrim 24k Gold Kit, you can enjoy a spa experience at home without paying for expensive salon treatments. Including a 24K Gold Facial Mask and 24K Gold Oil, this kit nourishes, firms, and hydrates your skin. Get ready to bestow your skin with unmatched radiance with the pure 24K crushed gold flakes.
The gold products are also naturally anti-oxidant rich, leaving your skin silky smooth. It firms skin, reduces fine lines & wrinkles, and locks in moisture.
So what are you waiting for? Pamper your skin with a premium glow with the 24K Gold Facial Kit! Never again worry about getting glowing skin!
---
#3 TheBeautyPilgrimage for Acne Cure
Trying all kinds of topical products for oily skin, pigmentation, scarring, and clearing clogged pores, only to have it all ruined by another bout of acne? Pilgrim's Acne Cure Kit can help! With the AHA BHA Peeling Solution, Salicylic Face Wash, and Anti-Acne Serum, this natural kit will solve all your acne problems!
AHA BHA Peeling Solution: Make your home spa experience more luxurious with Pilgrim's 25% AHA, 2% BHA, and 5% PHA Peeling Solution. As a gentle exfoliator, it removes dead skin cells, debris, and oil from the lining of the pores and the surface of the skin, keeping acne at bay.
Salicylic Face Wash: The combination of glycolic acid and salicylic acid in the Salicylic Face Wash removes both dead skin cells and clogs pores to prevent breakouts. Additionally, it gets rid of stubborn blackheads and whiteheads.
Anti-Acne Serum: Using Pilgrim Anti-Acne Serum, you will be able to clear acne that has already surfaced and also prevent new acne from developing. A light serum that exfoliates the topmost layer of skin also gives the face a more even, brighter look. With hyaluronic acid, the formula also hydrates the skin and regulates excess sebum! It's time to reveal the flawless skin hidden beneath.
Bid goodbye to acne and other nasties!
---
#4 TheBeautyPilgrimage for Lip Care
It is important to take care of your hair and skin, but don't forget about your lips! Bring out your softest, lushest pout with the K.I.S.S. Me Now Bubblegum Kit. Why wait? Bring out your best pout now!
K.I.S.S. Me Now Bubblegum Kit: This is a lip-sleeping mask that will change your life! K.I.S.S. Me Now Bubblegum Kit completely transforms your lips and makes them super soft. This bubblegum flavour is a bonus, making it super fun to apply. Due to squalane's hydrating properties, this mask leaves skin feeling so soft and supple. 
---
Are you ready to get started? Choose from one (or more!) of these best beauty kits by Pilgrim! Have any questions regarding these products? Ask away in the comment section below!